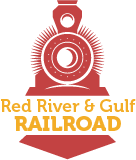 The Southern Forest Heritage Museum is a complex of historic buildings, all on the National Register of Historic Places, preserved from an old sawmill in the beautiful piney woods of Long Leaf, Louisiana, 3 miles south of Forest Hill, south of the city of Alexandria on the edge of the Alexander Forest Wildlife Management Area. In addition to being one of the nation's most complete historic sawmill complexes with an extensive collection of steam-powered logging and milling equipment, the area is known for its significant contributions to World War II, in training, transportation, and manufacturing, and now houses an extensive collection of memorabilia from the timeframe. The Red River and Gulf Railroad line, born from a lumber tramway is also featured prominently, with rides available for visitors. There are also beautiful spaces for hosting your wedding or event! Contact us today!
Open: Wednesday – Saturday, 9am-4pm
Closed during major holidays. Check Museum News or Facebook for closures.
Museum Admission               Museum Grounds Map               Directions and Map
 Adults    $8.00
 Children 6 - 12    $5.00
Children 5 and under - Free
Train Tickets
$6.00 Per Person
Children 5 and under - Free
Current Museum News