The Southern Forest Heritage Museum & Research Center (SFHM) has 3 engines from the time of the booming sawmill life in southern central Louisiana. The 3 engines were owned by the Crowells, the main family that created the 3 lumber companies: Crowell & Spencer (Crowell Long Leaf), Alexandria, and Meridian, and the railroad Red River & Gulf Railroad Company.
You can visit these engines on the SFHM Driving Tour. In order they are shown:
Stop 6: Engine #400 (in the woods)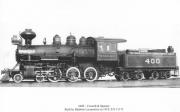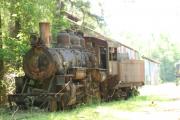 Engine 4-6-0 #400, class 10-32-D #1167 was built by Baldwin Locomotives in January 1919 for the Crowell & Spencer Lumber Company in Long Leaf (Rapdies Parish). This type of locomotive could pull up to 20 loaded log cars. The tender and cab were painted a blue-green color and had yellow lettering. #400 was used in the new line at the time, to go from Hutton to Long Leaf to haul logs. After 1944 it hauled from east of Meridian (was near Turkey Creek in Evangeline Parish) to Long Leaf. The engine was retired in February 1953 and placed on the track outside and has stayed in the same spot since. Efforts are underway to have it moved to be inside a building and eventually restored.
Stop 7: Engines #202 (in the Machine Shop) and #106 (in the Car Knocker Shed)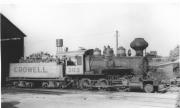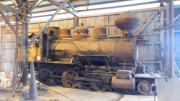 Engine 2-6-0 #202, class 8-26-D #183 was built by Baldwin Locomotives in September 1913 for the Meridian Lumber Company (was near Turkey Creek in Evangeline Parish). It was a wood burner, as it has a distinctive cabbage-head stack, and the first new locomotive of Meridian company. About 1923 #202 was sent to the logging camp of Sieper (by the Rapides and Vernon Parishes lines) that was used by Meridian. Then in 1928, after the burning of the Meridian Mill, #202 hauled log trains for the mill in Alco (Vernon Parish). By 1943 #202 was moved to the Long Leaf Mill where it worked with steel gang with transporting material and laying steel for a new tramway for a new line 10 miles east of the Meridian mill site. In 1950 #202 was repainted for the Crowell Long Leaf Lumber Company. Its cab and tender were repainted yellow and given red lettering. When its sister engine #204 was destroyed in a wreck in December 1952, #202 stepped into the role of woods logging locomotive, and hauled the final clean up train from the woods on September 26,1954 after railroad logging had shut down. This run was also the last run of a wood burning logging train in LA on a woods tram. For its retirement, #202 was eventually stored in the machine shop of the Southern Forest Heritage Museum in 1997, after being outside since 1954. It is one the last examples of a cabbage stacked, wood burning steam engine.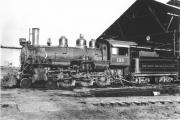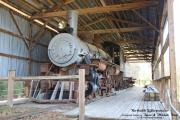 Engine 4-6-0 #106, class 10-32-D #1303 was built by Baldwin Locomotives in June 1923 at $29,520 for the Red River & Gulf Railroad Company and was the last engine bought for the company. #106 hauled freight trains from Long Leaf to Kurthwood for 22 years. In September 1945 it switched to the line from Long Leaf to Lecompte and was sometimes used by Crowell Long Leaf Lumber to haul log trains from Meridian (Evangeline Parish) to Long Leaf during this time. #106's last run, and also the last train to be used by Red River & Gulf before its liquidation, was in March 31 1953. It was offically retired in April 1 1953. It has been restored to its former glory in the Car Knocker Shed. Parked behind the engine today is a log car, of the hundreds in use at Long Leaf, it is the only one remaining.